Omega 3
Omega 3 supplements
Kala Health Omega 3 supplements
At Kala Health, we offer omega 3 supplements of premium quality. We specialize in developing and bringing to the market nutritional supplements of top pharmaceutical quality. Would you like to know more about our omega 3 supplements? Have a read below! Prefer to order your nutritional supplements directly? Head over to our web store. Here, you'll find an extensive overview of the supplements we offer. Place your order today before 15:00 and we will ship your order the same day!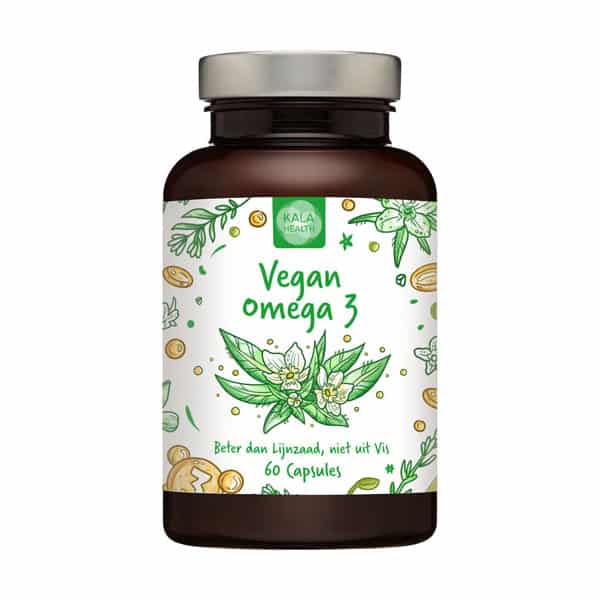 The unique properties of our omega 3
We offer omega 3 supplements in the form of Kala Health Ahiflower Oil (Buglossoides avensis). These are omega 3 fatty acids of vegetable origin, making them suitable for vegetarians and vegans. Ahiflower contains a higher level of valuable SDA omega 3 fatty acid than any other known plant. In addition, Ahiflower is rich in two other valuable fatty acids: GLA (omega 6) and Palmitoleic acid (omega 7). The unique properties of Kala Health Ahiflower Oil are:
Ahiflower oil leads to EPA levels in the blood plasma that are three times higher than with linseed oil. This is due to the high SDA content (18-20%) in Ahiflower oil, which is easily converted into EPA by the body.
Ahiflower oil is rich in an omega 6 fatty acid called GLA and an omega 7 fatty acid called Palmitoleic acid. Both possess special properties.
Ahiflower is both an effective and cheap solution in those cases where plant-based combinations of omega 3, 6, 7 and 9 fatty acids are sought.
Kala Health Ahiflower Oil capsules are completely plant-based and produced according to the highest quality standards.
In addition, we also offer omega 3 fatty acids in the form of krill oil and Aspitol.
Omega 3 supplement dosage
The recommended daily amount for our omega 3 supplements varies by product. Please read the information included with your product carefully for the exact dosage. It's important to always stick to the recommended dose.
We deliver pharmaceutical top quality
With Kala Health, you can be assured of nutritional supplements of pharmaceutical top quality. Our ingredients have been scientifically proven to work and we offer a price/quality ratio that remains unparalleled. If you would like to order our omega 3 supplements, you'll enjoy the following benefits:
Highest quality for the lowest price
Constant development, unique products
Scientifically proven efficacy
Free shipping available
Top quality ingredients
Same day shipping
Our product range
For a healthy lifestyle
More information about omega 3 supplements
Visit our web store to order your omega 3 supplements quickly and easily. Feel free to contact us for more information about our dietary supplements. We can be reached at (+31)070 3450290, info@kalahealth.nl and through the contact form on our website.
Our bestsellers
Discover our products
OptiMSM® Powder

250, 500, 1.000 or 5.000 gram

The purest form of MSM